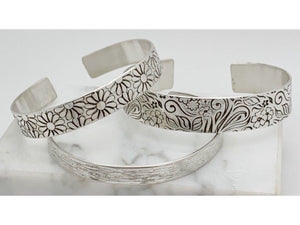 Textured Cuff - Instruction Fee
You will make one 1/2" X 6" sterling silver cuff in this beginner workshop. You will be introduced to texture plates and a rolling mill for unique texture designs and torch annealing to prepare your cuff for texturing and forming with various tools. Finishing techniques will include filing and using a Jool Tool for smooth metal edges, patina, buffing, and more.
This 2.5 hour workshop is Artisan led with a limited time special pricing instructor fee of $40.00 to be paid now at the time of reservation here on our website. A makerspace and materials kit fee of $30.00 plus sales tax is payable upon arrival the day of class. This price varies with your choice of metal.
Please wear closed toed shoes, keep long hair away from face, no loose sleeves and bring eyewear needed for close up work if necessary to see. We provide protective eyewear if needed. Please arrive 15 minutes prior to the workshop start time to review and sign a release form
Picture below is a sampling of the endless possibilities of personalizing your cuff. 
Workshop Instructor is Gaby Shultz
We suggest you bring a water bottle to stay hydrated. 
Thanks and we look forward creating with you!
IF YOU ARE REGISTERING WITHIN 24 HOURS OF THE WORKSHOP START TIME PLEASE CALL AND LEAVE A MESSAGE TO LET US KNOW. 512-635-6116

If you have a fever or other symptoms of COVID, are feeling ill or have COVID, have been exposed to someone who has COVID, been requested to quarantine or have any other reasons that might lead to a positive COVID test please reschedule.