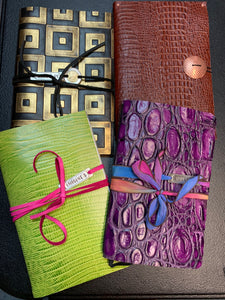 Leather Journals - Instruction Fee
This is a fun beginner class for most ages and skill sets.
You will choose your leather cover from 10 plus colors and textures, create a closure made with metal you will personalize with roll printing or stamping and shaping, attach leather or cloth closure strap, and insert a journal. 
This 3 hour workshop is Artisan-led with a limited time special instruction fee of $45.00 to be paid now at time reservation here on our website. A Makerspace and materials kit fee of $25.00 to $65.00 plus sales tax is payable upon arrive the day of class. The kit fee varies with materials you choose.
Please wear closed toed shoes, keep long hair away from face, no loose sleeves and bring eyewear needed for close up work if necessary to see. We provide protective eyewear if needed. Please arrive 15 minutes prior to the workshop start time.
The photo is just a small example of your choices of colors, patterns, closures and styles.
we suggest you bring a water bottle to stay hydrated. 
Thanks and we look forward to creating with you!
IF YOU ARE REGISTERING WITHIN 24 HOURS OF THE WORKSHOP START TIME PLEASE CALL AND LEAVE A MESSAGE TO LET US KNOW. 512-635-6116
If you have a fever or other symptoms of COVID, are feeling ill or have COVID, have been exposed to someone who has COVID, been requested to quarantine or have any other reasons that might lead to a positive COVID test please reschedule.